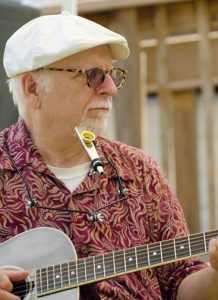 Neil Harpe – Artist, Musician and Guitarcheologist
 Neil Harpe is a visual artist and musician. His art work covers a wide range of subject matter: landscapes, maritime scenes, portraits, vintage cars & airplanes, and more. He is also an accomplished fingerstyle blues guitarist.
Since his teens Neil has had a keen interest in vintage acoustic guitars. Always a "catch and release collector", he has owned dozens of old Martins and Gibsons. But Stella guitars in particular grabbed his attention. Neil realized that Stellas were the instrument of choice for his heroes like Charley Patton, Willie Brown, Barbecue Bob, and Leadbelly. In 1999 Neil finally got his hands on his first vintage Stella guitar and thus began a 20 year exploration into the "World of Stella".
Over the next twenty years Harpe's catch & release vintage guitar hobby morphed into a small home business – finding, restoring, playing and ultimately selling Stella, Sovereign and Galiano guitars. He has had so many of these instruments pass through his hands that he lost track of how many. He has seen and played more old Stellas than just about anybody on the planet.
When he was in his teens Neil had the opportunity to hang out with blues guitar players like Mike Stewart (aka Backwards Sam Firk), Max Ochs, John Fahey, and Tom 'Fang" Hoskins – all of whom shared their guitar chops.
Throughout his adult life, Neil has been an active performer. An accomplished guitarist and singer, he has performed in many venues. A short list includes the Chesapeake Bay Blues Festival, Herndon Blues Festival, Smithsonian Associates, Hirshhorn Museum (in conjunction with Black History Month), Washington Folk Festival, Takoma Park Folk Festival, Northern Virginia Folk Festival, the Western Maryland Blues Festival, Quiet Waters Park, and the D.C. Blues Festival, as well as numerous club and concert venues. He taught guitar workshops for the DC Blues Society, and the Archie Edwards Blues Heritage Foundation.
Harpe's recordings include: 1972 Adelphi Records LP Neil Harpe (AD1013);  Neil Harpe and Rick Franklin – Doin' the Dozens; a solo CD – Neil Harpe;  Neil Harpe and Max Ochs – Got These Blues; and recently with his daughter Erin: Erin Harpe and Neil Harpe – Delta Duets.
In the 1990s Neil introduced his lifetime's passion of the blues and vintage guitars into his art. He did a number of life sized paintings of vintage guitars and a series of mixed media portraits of blues musicians: Blind Boy Fuller, Blind Willie McTell, Lard Belly, Lonnie Johnson, Memphis Minnie, Blind Lemon Jefferson, and many more. This series of images eventually led to his illustrating Ted Gioia's book, "Delta Blues," W.W. Norton, 2008